I ordered Karlie's Kookies a while back and loved them. What I didn't love was the $22 price tag for 6 cookies. I scoured the web and found this recipe by Anna Savanna that was supposed to imitate them. Once again, I altered it a little, so it could be that if you follow it exactly, they taste exactly like Karlie's Kookies, but I doubt it. I think there's a reason why Momofuku Milkbar is carrying/creating her cookies. (Update: I still have to order them because these are just not as good. Feel free to tweak it and try to improve it though)
 
Ingredients for 9 large cookies:

2 cups almond flour
1 cup gluten-free whole oats
1/2 tsp salt
3/4 tsp baking soda
1/2 tsp xantham gum
1/4 cup slivered almonds
3/4 cup mini dark chocolate chips
1/2 cup olive oil
1/4 cup agave (I used coconut sugar)
1 egg (I added this before I realized there was almond flour(dunce, I know) bc it wasn't sticking together at all. Probably not necessary)

Directions:
First, preheat your oven to 300º and grease or line a baking tray with paper. Lightly toast your almonds in a frypan.

Mix your dry ingredients gently with a wooden spoon or using a stand mixer on low speed. Add the liquid ingredients and paddle well until combined. Scoop dough using an ice-cream scoop (they'll be too sticky to use your hands) and gently place them on the paper (you should have eight even sized scoops). Flatten each ball with the palm of your hand to make a 3 inch round.

Bake for 20-25 minutes at 300 or until they look ready to you.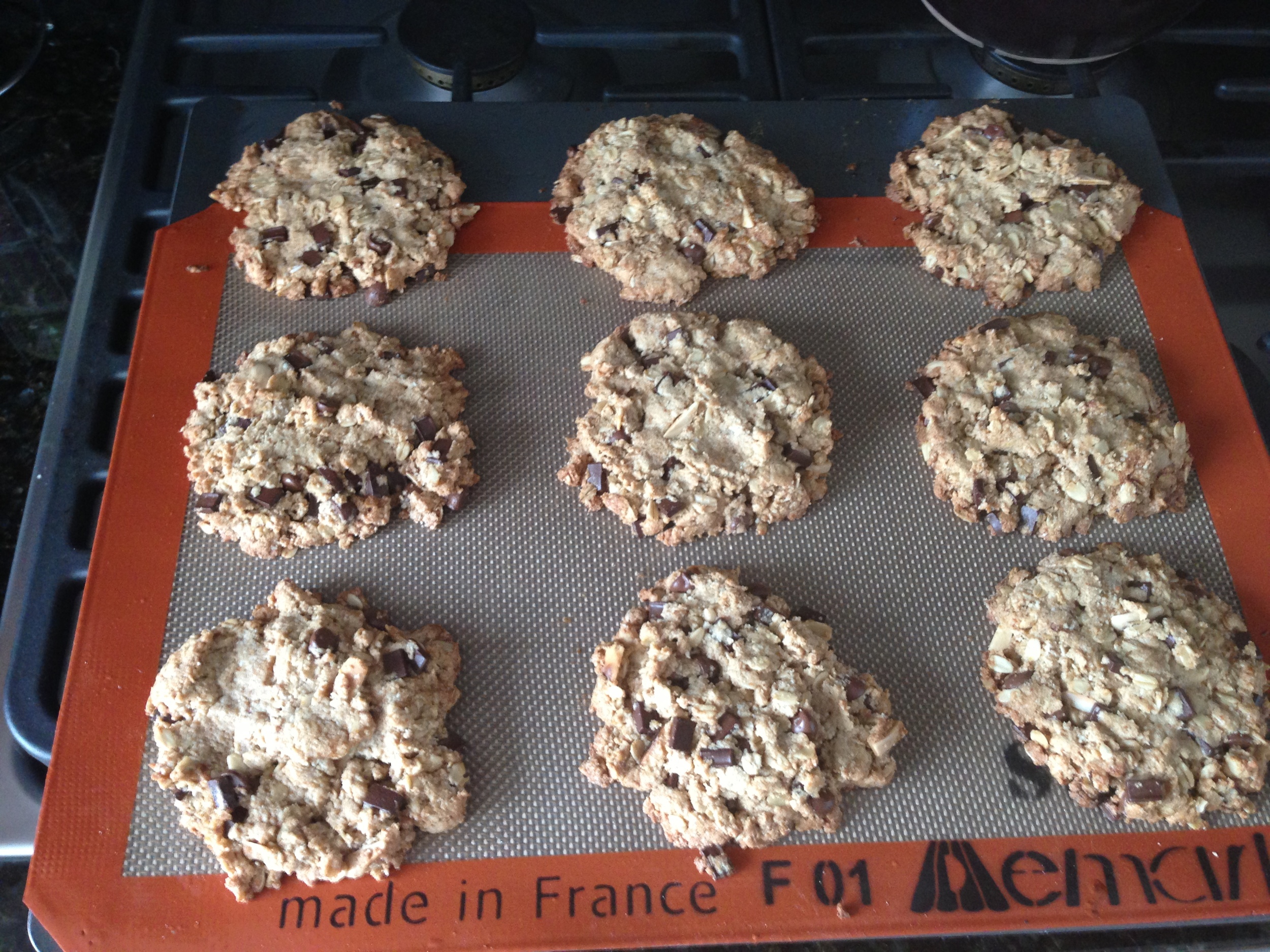 Takeway from this endeavor:
These cookies are good if you've never tried the real Karlie's Kookies, available for purchase here for a fortune/part of your future child's college tuition. Okay, maybe I'm exaggerating but they are really expensive. Good luck and please let me know if you find the perfect recipe for these! :)